Heirloom Quilting Academy
Enrollment is currently closed.  
Will reopen in the fall.
Be the first to know when it reopens!  Click here for the wait list.
Heirloom Quilting 
Academy
The Proven Step by Step Method 
Of Designing for your Quilt Top!
In this course you will go from feeling indecisive and paralyzed to feeling
confident and free, experiencing the great satisfaction of knowing your design plan is perfect for your quilt top!
---
Before I tell you about this incredible program.
Let's talk about who this is really for….
Are you a quilter that is paralyzed when it comes to quilting a top with a lot of open space and you would like an easier way to get past your analysis paralysis!
Whether you are:
…. An experienced quilter that is looking for a different way of designing so your tops take on a fresh new look.
…... a career quilter that would like to come up with a game plan for the quilting before you resort to the stand and start method.
…... a confident beginner that needs some guidance on how to design the quilting for your tops.

You are in the right place!
If you have ever stood and stared at a quilt and wondered, "How am I going to quilt as desired?"..... then this is the class for you!   This will especially apply if there is a lot of blank space!  Lisa will teach you how to divide the quilt into manageable units....then apply motifs to your units....and then use fillings to make it all "pop"!  You will meet every week in a Zoom class and go over any problems you have.  And it is not just Lisa, but all the other students that will give you input and encouragement.  Besides design, Lisa covers....quilting with rulers...quilting whole cloth quilts,....quilting mid-custom quilts...and quilting beautiful feathers(her specialty)! You will get individual attention from Lisa and she will answer all your questions!  I cannot recommend this class enough.  It will make you a better designer and a better quilter!
Marty from Texas
Hey there!  You've seen Lisa's new blog posts and are wondering… "Should I, should I do this".  The answer is an unqualified Yes!!  I was a member of the Beta group that helped develop her class, and let me tell you, it is amazing.  Who can't help but admire Lisa's quilts and the way the quilting truly does make the quilt.  Simple Nine patch and Friendship Star quilts shine and sparkle with her technique and this class will show you the how to achieve this on your quilt tops.  Let's face it,  we have all had tops that just stump as with the question of what quilting designs to use and where to place them.   You will take a very deep dive into how to design the dividing line on your quilts ,large or small, to lift them way above the ordinary.  The first modules will walk you through the process of deciding and defining the focal point of your design and working out from there dividing negative and positive spaces into unique designs with straight lines.  There will plenty of practice time  to learn this fundamental building block using virtual quilts.  Next you will explore incorporating curves  into the mix and the quilting designs step up another notch.  Don't worry, this isn't all theory and it definitely isn't a "cookbook" type of lesson plan where you are told to put this line in that space, etc.  You are in charge of your designs and will post your ideas to the Facebook group and share at Zoom Meetings.  Once you get comfortable with dividing your quilt top into very striking spaces, you will learn about putting motifs such as feathers into some areas and traditional background fills in others.  Expect plenty of practice both with your pencil and paper and with needle and thread.
 I love to quilt!  I love the texture and dimension quilting brings to the pieced and appliqued designs.  This class has taught me so much about when and where to add my favorite motifs to designs.   One of my design techniques I use when creating a top is to blur  where each block starts.  With this class, I've learned to expand the technique and further blur the block lines with the dividing line and different fills.    Not every quilter wants to do dense quilting and certainly not every quilt calls for it.  Once you learn the techniques for creating heirloom quilting designs, you will learn how to modify them to create more loosely stitched nice cuddly quilts.  This class has helped my quilting techniques so much, if I didn't have lifetime access to all the lessons, I would probably enroll and take it again in the future!    
Stop thinking about whether you should do take this class or not… if you love to quilt and want to improve your techniques, or if you aren't comfortable quilting and want to learn more this class will help, tremendously!!
 As the Nike tag line used to say, "Just do it!"
Jo
You are in the right place and I am going to tell you exactly how Heirloom Quilting Academy will give you the tools, guidance and unparalleled support on your journey to take your quilting to the next level.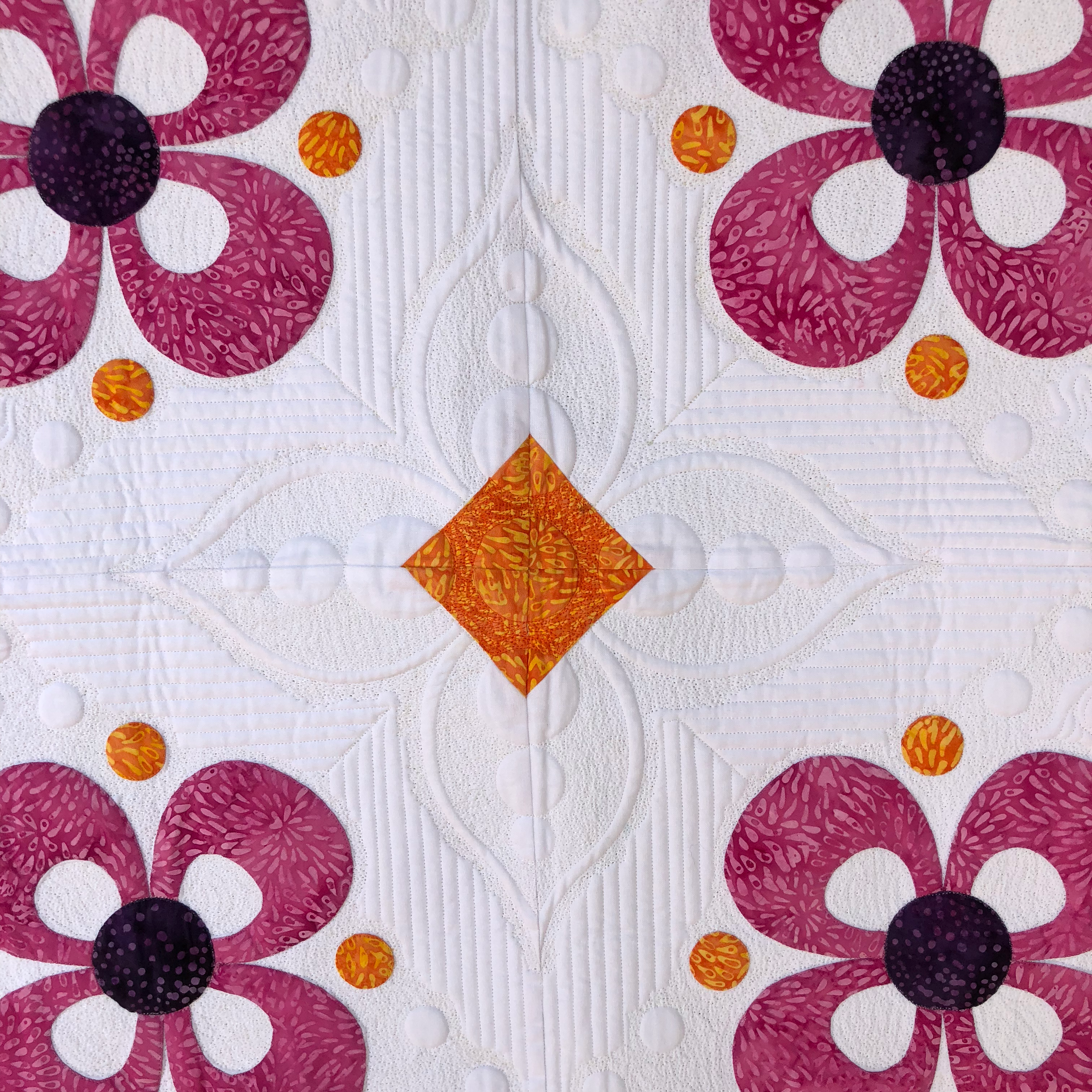 ---
By the end of this course you will be able to…….
Confidently design the quilting for you or your customers tops that have a lot of negative space
Create one of a kind designs for an heirloom keepsake
Quilt a top that requires no marking (which means no time marking or removing of marks)
Finish your quilt quicker because you have a roadmap to follow eliminating the stand and start method
Select the perfect thread color for the look you are trying to achieve
---
What others are saying
Lisa's first zoom training was even better than I imagined it would be. And I was very eager for the class. Even with occasional techno hiccups, I got a lot of personal attention with my design, and it seemed like everyone else did too. We got so much accomplished, and still it went by so fast, I was sad when it was over.
Maisie, Virginia
Lisa provided direct instruction with this online class. I was able to benefit from her expertise and implement her techniques in my quilt. She also gives her students the freedom to create their own individual designs. Lisa afforded me the opportunity to challenge myself and finally work up the courage to complete an intense design. Thank you so much and I look forward to accessing her expertise in the future.
Jennifer
What's Inside
Module 1:
It pays to learn from someone who has been there before. My method of designing for a quilt would be to stand and stare at it hoping that lightening would strike and magically the designs would pop into my head. This was rarely the case.
In this module you'll come away with realizing that isn't a good method of designing and you will replace it with what you will learn in this course. You'll realize that you won't ever look at a quilt top the same way, which is a good thing!
You will learn about the supplies you need to work through this process, most likely you have everything you already need.
What top is the best to get started with! Those with open space are the best for this process.
Time is huge factor in choosing what to quilt, you will walk away with knowing if a particular quilt is worth the time and effort it takes to do Heirloom quilting.
Module 2:
Foundations for Success! Let's make sure we set you up for success. Learn some basics of ruler work and motifs, we will use both in later modules but its a good thing to start practicing.
Module 3:

This is the biggest module. It is also the one where most students tend to get paralyzed, normally because of overthinking. Don't overthink it!
You will learn how to break up your quilt into sections and design for these sections. This prevents the anxiety of looking at the whole quilt and thinking… OMG what am I going to do with all that open space.
Module 4:
We continue with perfecting our secondary designs! This is the most important part of the process! So stay with me!
Module 5:
This is an implementation week! Finishing up the past 2 weeks assignments or just taking a break. It is up to you.
Module 6:
Execution week!
We will go over the strategies of executing the bones you designed in Module 3. What is the best way to go about quilting it for both longarm and domestic quilters. You'll learn how to choose the best shaped ruler to match up with what you drew (since you aren't drawing to scale, it won't be the same one you drew with)
Choosing your batting and thread based on the quilt you are working with.
Module 7:
This is when we get to learn about the eye candy of the quilt! The feathers, flowers, ferns…. Those things that we stand in front of a quilt and drool over.
You'll learn where to place these beauties and how to accentuate them in your quilt.
If you are a modern quilter… you'll learn what to replace the beauties with!
Module 8:

Once you've decided on the beautiful designs…it's time to talk fills. How important the fill is, the scale of it and most of all what fill to use to enhance your overall design.
Module 9:
Machine time! Let's get those beauties quilted. Motifs and Fills!
Module 10:
Implementation Week! Catch up or just play!
Module 11:
Looking for Mid Custom... this is your week. Lisa goes through 10 different quilts and designs mid custom for each!
Module 12:
In this final module, Lisa goes through the basics of how she designs a wholecloth!
Heirloom Quilting Academy
(A $2100 Value)

12 modules (2 implementation weeks included) with a total of 50+ lessons showing you everything you need to know to turn your special top into a jaw dropping, show stopping piece of art! (these are prerecorded so you get to learn when it is convenient for you) 

The step by step design method teaching you the art of breaking up your quilt into smaller areas.

Where and how to place those beautiful designs on your quilt top for maximum WOW factor.

Fills aren't just to fill…. What their purpose is and how to choose and scale for maximum benefit.
You will be given one module per week with 2 implementation module, this allows you to focus on one lesson before moving onto the next one.

This is to protect your time and ensure you won't feel overwhelmed which generally leads to creative blocks.
Plus these bonuses to keep you motivated!
12 Q & A sessions to get all of your questions answered!
A Private Facebook group for added support throughout the 12 weeks of the course!
LIFETIME ACCESS!