Quilter's Groove Design Academy
Introducing

Where You Will Learn the Proven Step by Step Method 
Of Designing the Quilting for all of your Quilt Tops!
In this course you will go from feeling indecisive and paralyzed to feeling confident and free, experiencing the great satisfaction of knowing your design plan is perfect for your quilt top!
Quilter's Groove® Design Academy is for you...
A passionate quilter that becomes paralyzed when quilting a top with a lot of open space and wants a proven method to get past analysis paralysis! 

An experienced quilter that is looking for a different way of designing so all your tops take on a fresh new look.

A career quilter that wants a step by step process that allows them to come up with a game plan for each and every quilt before you resort to the stand and stare method.

A confident beginner that wants some extra guidance on how to design the quilting for all your tops.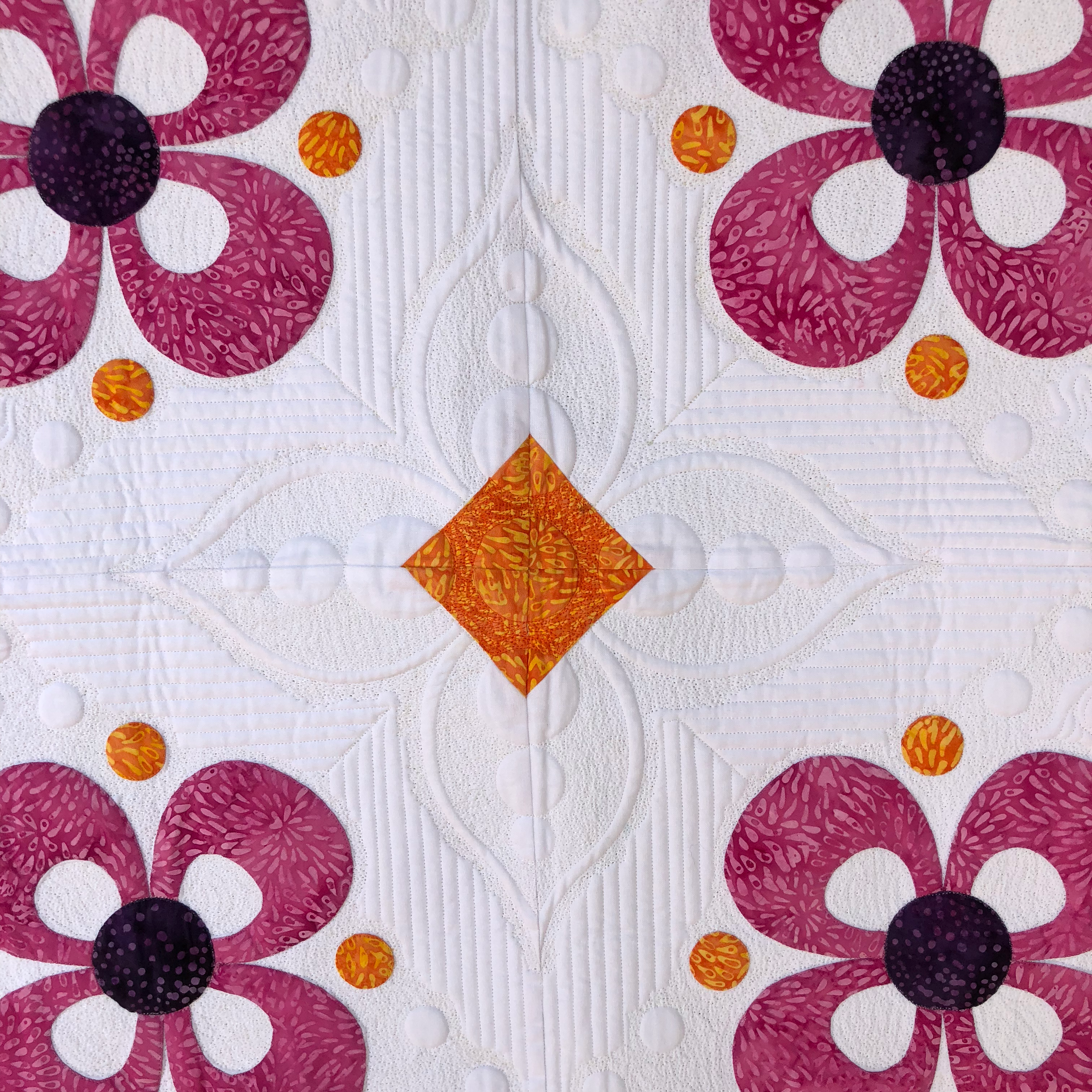 ---
By the end of this course you will be able to…….
Confidently design the quilting for you or your customers tops that have a lot of negative space

Create one of a kind designs for an heirloom keepsake

Quilt a top that requires little to no marking (which means no time marking or removing of marks)

Finish your quilt quicker because you have a roadmap to follow eliminating the stand and start method

Select the perfect thread color for the look you are trying to achieve
What's Inside
Module 1:
You will learn the supplies needed to create the perfect design for your quilt top! 
 

Module 2:
This where you will learn the foundations for success.  Learn basic ruler work and motifs which we will continue to use throughout various modules to create the perfect design plan.
 Module 3:
 How to move past overwhelm.  Learn how to break the quilt down into sections and design for each section.  This will help you move through anxiety and think about the quilt in bite size pieces rather than a whole.
Module 4:

 This is where we perfect the first part of our plan! 

 This is the most important part of the process! So stay with me!
 Module 5:
We will have a week of implementation.  Finishing up the past weeks assignments or just taking a break.  Whatever feels right for you. 
Module 6:
Quilting Time!  

Here we will go over the strategies of executing the plan you designed in Module 3.
Module 7:
Learn what motif to use and where to place them in your design plan to really accentuate your quilt.
 Module 8:
Choose the perfect fill to showcase your motifs and quilt!
 Module 9:
Machine time! Let's get those beauties quilted. Motifs and Fills!
Module 10:
We will have an implementation week! Catch up on past assignments or just play!
Graduation!!
All This and More 
10 modules (2 implementation weeks included) with a total of 50+ prerecorded lessons showing you everything you need to know to turn your special top into a jaw dropping, show stopping piece of art!

The step by step design method teaching you the art of breaking up your quilt into smaller areas.

Where and how to place those beautiful designs on your quilt top for maximum WOW factor.

Fills aren't just to fill…. What their purpose is and how to choose and scale for maximum benefit.
You will be given one module per week with 2 implementation module, allowing you to focus on one lesson before moving onto the next one.

This is to protect your time and ensure you won't feel overwhelmed which generally leads to creative blocks.
Plus these bonuses to keep you motivated!
10 Q & A sessions to get all of your questions answered and the extra support you need.
A Private Facebook group for added support throughout the 10 weeks of the course!
Plus
LIFETIME ACCESS!
Quilter's Groove® Design Academy
$2300 value
What others are saying!
Lisa's first zoom training was even better than I imagined it would be. And I was very eager for the class. Even with occasional techno hiccups, I got a lot of personal attention with my design, and it seemed like everyone else did too. We got so much accomplished, and still it went by so fast, I was sad when it was over.
Maisie, Virginia
Lisa provided direct instruction with this online class. I was able to benefit from her expertise and implement her techniques in my quilt. She also gives her students the freedom to create their own individual designs. Lisa afforded me the opportunity to challenge myself and finally work up the courage to complete an intense design. Thank you so much and I look forward to accessing her expertise in the future.
Jennifer
Besides design, Lisa covers....quilting with rulers...quilting whole cloth quilts,....quilting mid-custom quilts...and quilting beautiful feathers(her specialty)! You will get individual attention from Lisa and she will answer all your questions!  I cannot recommend this class enough.  It will make you a better designer and a better quilter!
Marty from Texas
Stop thinking about whether you should  take this class or not… if you love to quilt and want to improve your techniques, or if you aren't comfortable quilting and want to learn more this class will help, tremendously!!
 As the Nike tag line used to say, "Just do it!"
Jo
If you are feeling overwhelmed each and every time you go to quilt your top, then this is the course for you! 
Overcome overwhelm and finally learn a proven method you can confidently use each and every time!